This 12-week Advanced course is designed to allow you to confidently apply Cupping Therapy to resolve your client's most stubborn pain patterns. 


This course includes:
Access & Membership to the Mastermind Group on Facebook, where we all meet together and brainstorm with like-minded, advanced Cupping Therapy practitioners.
Weekly Modules – We go through detailed Anatomy, Assessments, and Cupping Applications for each area of the body.
Comprehensive printable workbook so you can reference on-the-go!
Weekly LIVE Technique / Business / Communication classes – even after the course is complete!
LIVE Q&A Virtual Meetups - Get your questions answered & learn different ways to apply these techniques for specific conditions!
Lifetime access to all material - This option will not be offered again!
Upon Completion of this Course, you will: 
Be able to provide highly advanced Cupping Therapy Protocols
Be able to confidently customize these protocols for special cases of chronic pain, injury, and surgical recovery
Communicate with your clients in a way that gets them excited and happy to be active participants in this therapy
Get 24 CE credits from NCBTMB
Be invited to a graduates-only healing & Advanced Certification retreat (dates pending)
Be added to a directory of Practitioners, so you can be a part of our growing referral network
--------------------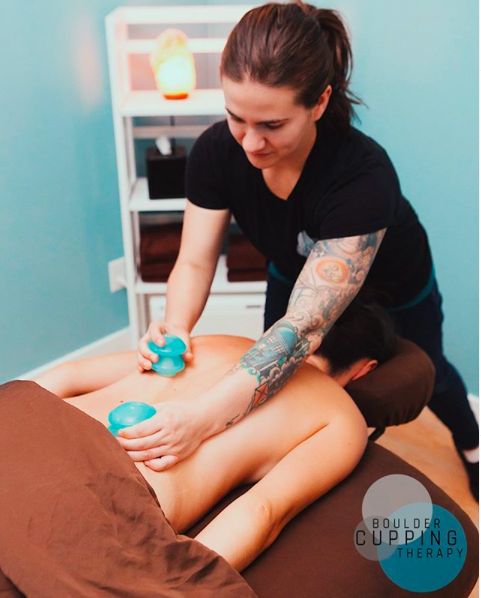 I have run a successful, thriving Cupping Massage clinic in Boulder Colorado since 2012, and along the way have developed the skills and protocols which I will teach you in this 12-week course.
I have a passion for getting to the root of chronic pain. I feel like I haven't done my job when a client comes back repeatedly for the same issue. With a new understanding of how the brain and body communicate pain signals, and utilizing Cupping Therapy and Neuromuscular Massage techniques to "hack" that connection, I have been able to resolve some of the most stubborn syndromes for my clients, and teach my employees how to do the same!
I am very excited to share these protocols with you, and look forward to hearing how they inspire you to help your clients out of severe chronic pain too!